Bach Flower Essences Therapy - sustainable stress management for entire family, including pets
Most of the people are not familiar with the Bach Flower Essences and often assume Bach Flower Essences are essential oils. It is incorrect.
Bach Flower Essences belong to energy medicine and are food supplements with a long history of proven balancing qualities.
While taking Bach Flower Essences chosen correctly, we establish a link between where you are and where you want to be. Each Bach Flower Essence is known for unique emotional qualities it can balance, helping us to make a transition from the negative vibrations where we feel stuck to the high, positive state of Being, where we feel joy, unconditional love that is our birthright. Only in the positive state, full of high energetic vibrations we able to achieve success, through following our your unique potential that each of us has but not building a career based on fear and limiting beliefs.

Career change and choice without stress
Certain Bach Flower Essences can help people in life and career transitions, regardless of age, who are moving from one country to another, changing jobs or trying to identify a new career they feel a calling for, not just a job to survive and pay the bills. Those essences are very helpful for young people who are on a crossroad of life, choosing a career and studies and are unable to feel a strong calling for any profession that can lead to an unfulfilled career in the future, as we are best in what we love to do.


Managing fear with Bach Flower Essences
Another example where Bach Flowers are very helpful in dealing with all kinds of fears: fear of public speaking or fear of starting a relationship after abuse, fear of dogs or fear of height, or even unknown fear that we can't put words into words. Specific Bach Flowers help against depressive thought and hopeless states of despair or shock. There is only one approved combination that Dr Bach Has created himself known as a Rescue remedy, consisting of five Bach Flower Essences that is very helpful in times when we have no time to choose the essences like accidents, bites, shock, fainting. Rescue combination is not a short cut to treat stress
Bach Flower Essences do balance emotions that in its turn can improve physical condition or illness that was caused by the inner imbalance.
Bach Flower Essences belong to energetic medicine that is not yet recognised by modern medicine, and that is why they classified as food supplements that are good as people can use Bach Flowers freely.
Bach Flowers, they are not homoeopathy nor essential oils. The essential oils are separate natural health products.
How shall we take Bach Flowers?
Most commonly Bach Flowers are used as drops we take directly from the dropper bottle your Bach Flower Practitioner supplied you with, or mix four drops in water, tea, coffee or other drink. However, they are used with essential oils for massage, and even add to the creams as they can act additionally act via skin, meridians and help some skin conditions and detox.
Even though Bach Flowers are safe to use it is challenging to choose them without proper knowledge of the system and a deep emotional self analyse. A professionally trained Bach Flower Essences practitioner within an hour can determine the correct remedies for you, mix the essences for you and supply you with all needed information to ensure you take the Bach Flower Essences correctly.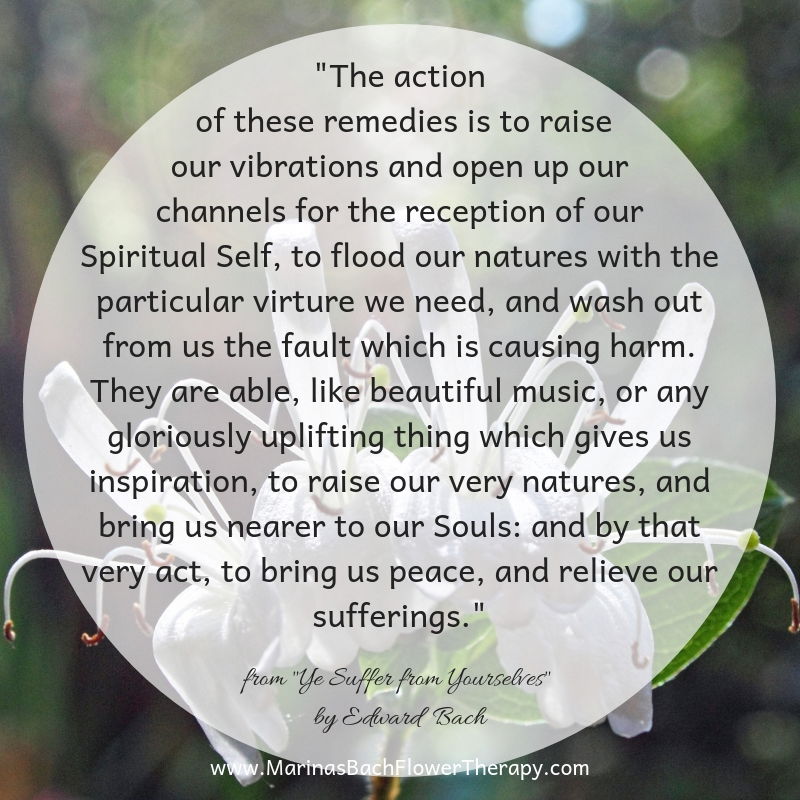 Dr Edward Bach and his work
Dr Bach has left us many essential writings, and for a person who is interested in understanding Bach Flowers in depth, a lot of books are available in English and many other languages.
The most beautiful description of the essences we can find in the work Dr Bach left us to study.
I am sharing with you a personal description of Dr Edward Bach, the originator of the flower essences. "Ye Suffer from Yourselves" is a must read for all who is interested in energy medicine and self-healing. It was published in 1931 and written in beautiful English.
Humans are not perfect, and our faults are unavoidable. Dr Bach left his medical practice in London, moved to the countryside, turned to nature for healing and left us a timeless and sustainable healing system for self-support in all life situations that is rapidly gaining popularity in our stressful times.

If you would like to book a session with me or have any questions about the system of Bach Flowers or my therapy work, please contact me via my "Contact Me" page at https://www.marinasbachflowertherapy.com/ or message me via my Facebook page @MarinasBachFlowerTherapy

With Love and Light,
Marina