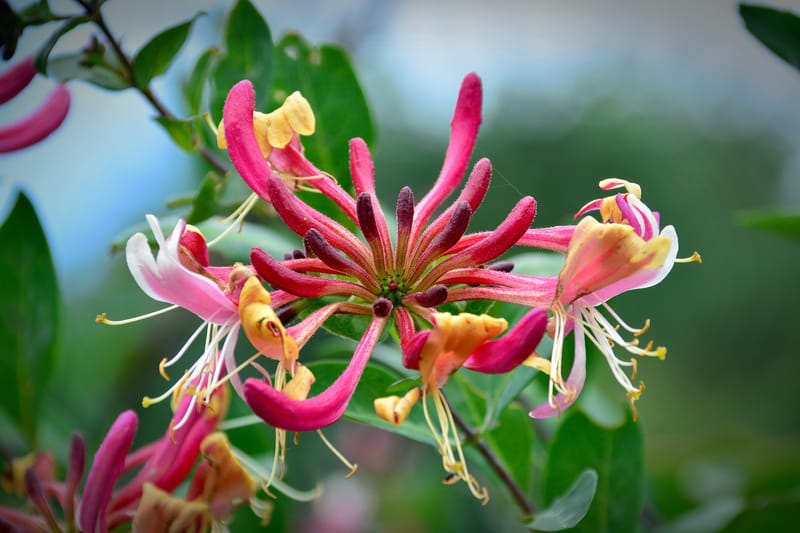 I provide online Bach Flower therapy that has amazed me with exceptional results I have seen through the years working with different modalities of stress management.
I offer non-judgmental consultation matching your current emotional state with the relevant Bach Flower Essences, that activate the positive aspect you strive to achieve.
Bach Flower Essences help us to restore energy, gain lost courage and confidence. They help us to heal post trauma or shock and find harmony within. For people who work hard with no rest, Bach Flower Essences help to relax, restore energy and find strength in the moments when challenges feel unbearable. These beautiful essences help us to go through any transition, physical or emotional, find our true professional calling and release fears that block our confidence and courage to follow the heart.
Bach Flower Essences can be mixed in nearly 293 million combinations, matched individually to your unique personality, situation and emotions.
Bach Flower Therapy session in English, Russian & Swedish
Online sessions
I offer Bach Flower Therapy as an online video session, sustainable for our planet in your preferred language out of three: English, Russian and Swedish. Therapy session lasts one hour, and if you feel you need extra time, and it fit's my schedule, if not booked in advance, additional 30 min is possible for additional charge.
Online consultation via secure online conference platform is easy to have via smartphone or iPhone, smartphone, computer, tablet or iPad via my private conference line, where you won't be distrusted by any digital buzz.
In-person Sessions at Hälsanshus in Alnarp or Lund
On demand in-person sessions and available in two locations of your choice. Those sessions are slightly more expensive as they cost me extra to perform and are subject to availability of the therapy rooms: please book well in advance as it can be longer waiting time and a strictly limited to one hour and can be rescheduled with 50% of ordinary price charge.
Your First Session with me
The first consultation lasts one hour online or in-person.
Follow up session or additional time
The follow-up session can be 30 min if you provide clear picture of your feelings and have a feedback ready. it will help me to evaluate a new individual Bach Flower combination quickly. Some people require more time and it's totally fine and you have a right to choose what time you need as long as you provide a clear picture of your emotional state.
Make sure you book the right time slot for your consultation.
How to book a session
To book a session with me you need:
1. Confirm the exact time with me, can be done via "Contact Me" page on my website, here is a link:
Contact me
Please, submit your booking request via CONTACT ME form on this website and allow me 24 hours to come back to you and I will confirm the time with you over the phone or mail and mail you an invoice that has to be paid before the session.
2. Pay the session in advance via PayPal, alternatively direct bank transfer to my bank account that shall be confirmed by a quality pdf copy from your Internet bank or when payment is received. For Sweden only Swish payment can be done in the beginning of the session as latest. Unpaid sessions or no show sessions are the subject to full payment if you have not been in a emergency situation that has to be proven. I strive to help as much people as possible and value my time i can use for others who need help.
PRICE LIST valid until August, 1st 2019:Adults:Bach Flower Therapy 60 min: 960.00 SEK (incl. 25% VAT) - without personal mix

Bach Flower Therapy 30 min: 480.00 SEK (incl. 25% VAT) - without personal mix

In-person session 60 min: 960.00 SEK plus therapy room booking chargeSix sessions cards are available with 20% discount, mailed to you after prepayment: 5760.00 SEK for the six hours of therapy

Individual Bach Flower Essences mix including one 30 ml glass dropper mixing bottle with pipette: 220.00 SEK (incl.25% VAT)A new 30 ml bottle with a dropper 50.00 SEK incl. 25% VAT

Postage and packing costs calculated

individually

depending on the
country.
Children's
under 16: Bach Flower Therapy 60 min: 500.00 SEK (incl. 25% VAT) - without personal mix
Bach Flower Therapy 30 min: 300.00 SEK (incl. 25% VAT) - without personal mix

Individual Bach Flower Essences mix including one 30 ml glass dropper mixing bottle with pipette: 220.00 SEK (incl.25% VAT)

Postage and packing costs calculated

individually

depending on the
country.
Beautiful gift vouchers are available! Can be posted to the address you provide within 24 hrs from your payment is received.
Unemployed, full time students and Bach Flower Practitioner Trainee students studying at the Bach Center: 10% off all prices, can be combines with other discounts :) - have to be confirmed by providing a copy stating your special status.What is a Bach Flower Essence?
Bach Flower Essences are entirely safe for people, children of all ages including babies, pets, wild animals and plants. You can't overdose Bach Flower Essences as they belong to energetic medicine, unlike pharma drugs. This means there is no high concentration nor chemicals that can be toxic or overdosed or can cause addiction.
Bach Flower Essences can be used for a prolonged period or during especially challenging life situations, It can be fear of exams or public speaking, dealing with bad news, job change, loss, divorce, grief or a relocation. Those are just a few examples.
Bach Flower Essences are classified as food supplements.
A note on alcohol
Healing Herbs range of Bach Flower Essences is preserved by alcohol: 40% eco-certified brandy that is diluted with water from a stock remedy. Your 30 ml dropper bottle with individually selected essences will contain 2 drops of each essence I bland in the mix, quality mineral water.
If you have religious concerns about this microdose of alcohol, please request guidance from your spiritual Teacher, and I can provide more detailed information about the flower essences quality.
This alcohol-free formula is suitable for pets and even babies. Just be aware each alcohol-free formula will contain micro-doses that are not detectable even through laboratory analyses: two drops of original stock remedy diluted by 30 ml water.
Confidentiality, GDRP and psychiatric diagnoses
Our consultation is strictly confidential and will not share any information with anyone unless I'm concerned about your personal safety or safety around you.
As a graduating student, I won't be able to work with you if you suffer from severe forms of depression or have other psychiatric diagnoses unless your GP or psychologist will approve our session and you will need to confirm it and share contact details to your healthcare provider before our first session. Bach Flowers are safe to mix with any medical, and they can't cause any treatment complications.
I fully comply to GDRP rules and take extra measures about confidentiality. Through our session, I am taking handwritten notes that are not on my computer. All records are coded the way only I am able to identify. I choose not to write on the bottle with the individual mix I prepare for you what essences are there: a person who knows the system or even just read about it, can make wrong assumptions about your emotional state. The bottle's label will include only your name, the date I mixed the essences for you: for example, Marina's Bach Flowers. The instructions on how to use the mix and what essences are in there you will know through our consultation, and I can mail it to you as well. From there it is your responsibility to keep your mail safe or delete it.
As a registered student at Bach Center in the UK, I am following Practitioners' Code of Conduct. That means that I follow all recommendations of the Center, that secure the quality of practitioners works. In compliance with the rules of the Bach Center, I store the notes about out session for seven years from the date of your visit. For the children, information is stored seven years from the moment a child turns eighteen.
Upon your request, I can post you the notes I have taken.
I don't have any mailing list yet and suggest you follow my Facebook page @Marinas BachFlowerTherapy, soon there will be updates on LinkedIn and Instagram. In this case of PM communication, the rest of the privacy covered by social media platforms.
If you have any additional questions, you are welcome to contact me on my contact page.
Consultation for children under sixteen
All consultation for children under sixteen I perform online or live in the presence of a parent. I keep safe the information about your child's visit for seven years since child turns eighteen. This is regulated by the Code of Practice.
Family consultations
Some families choose to disclose family dynamics and openly discuss challenges and feelings with each other and me. In this case, we agree upon it separately, and if it is your choice, we can have a more extended consultation for both partners or for example, parent and a child. Other constellations are possible yet rare, so please send your request via the contact form on this form, and I will do my best to accommodate your needs.
For more information, please read through F.A.Q. (Frequently Asked Questions ) that will grow with the time.