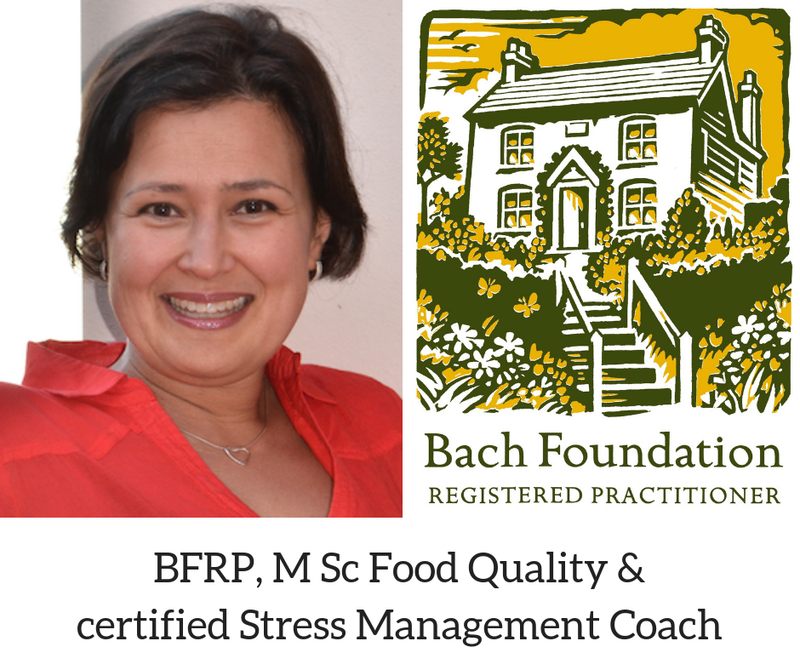 A warm welcome to Marina's Bach Flower Therapy!
My name is Marina, and I'm a Bach Foundation Registered Practitioner, who successfully completed Level 1, 2 & 3 training in London with the Bach Centre, the originator of the flower essences therapy that was founded by the British physician, Dr Edward Bach for nearly a hundred years ago.
As a certified and Sustainable Stress Management Coach, I'm working with stress prevention and rehabilitation in Sweden since 2011. I look continuously for the best and innovative holistic practices to permanently manage stress, help depressions, free children from fears. I studied and practised many helpful methods, yet I wasn't satisfied until I emerged in the wisdom of Bach Flower Essences that when practised correctly create a permanent change from lasting imbalance to balance, regardless of circumstances. That's why I have chosen to study the system in depth: to help myself, my family and to lead others to self-healing and a better life.
I firstly tried in 2005 while living in Pakistan. While Bach Flowers are very popular in the countries who have a long history of holistic culture, flower essences work is in its initial stages in Sweden. It means I work not only with the clients as a Practitioner, but devote a lot of time to the business development, translating the value of the holistic, sustainable, organic products and choice for stress and skin care to my customers and new markets.
Being the second entirely educated and registered Practitioner in Sweden and the first one in Russia means I practically work with the product development and awareness, marketing, customer needs and insights. I am thrilled that eco and organic trends are growing strong and more and more people choose holistic products and therapies. Yet, it a long way to go for making them mainstream and well-known.
My diploma was a beautiful journey of self-healing. I'm deeply grateful to all my clients who trusted me as a trainee, witnessed and embraced the healing energy of the Bach Flowers essences, returned for more, to deepen the healing, seeing the benefits of the holistic, non-toxic system from nature that helps with stress management from A to Z.
All of my clients came back for a new session or ordered a new bottle of individually selected Bach Flower Essences, some invested in the entire kit and are on my waiting list for the training in self-stress management I plan for this summer.
As a food quality expert, I choose the best methods for my clients, and now I have that missing bit of a puzzle for people who are looking for the holistic and sustainable treatment that lasts without being dependent on unlimited sessions to feel good. Immediate stress is natural to help, and I teach my clients committed to the system this simple yet powerful holistic approach for the self-help. Immediate anxiety or fear is easy to balance.
Deeply rooted issues and post-trauma requires a time to restore. It's individual from case to case. In the Bach system, we don't treat diseases or diagnose: Bach Flowers Essences act as a catalyst for the natural inner-balance that allow our energy to flow from the negative state to the positive.
Bach Flower range covers nearly 293 million specific combinations of emotional balance. This allows us to balance emotions of all kind from the negative state to the positive in a sustainable, way.
Bach Flower Essences Quality
There are a few ranges and producers of the Bach Flower Essences. I work with the Healing Herbs brand that is organic. I also hold a Master degree in Food Quality Control and prepare the individual mix for my clients with top quality organic stock essences and high-quality water. The original blend contains a tiny dose of alcohol (max sixteen drops of 27% alcohol diluted in 30 ml of water: safe in any circumstances.
For children, pets and people who avoid alcohol entirely, there is a non-alcoholic glycerin formula available. Soon the essences will be available for ordering in my webshop (coming soon!) So far, please contact me to order the Bach Flower Essences.
Why I do this work

Since my childhood, I was fascinated by healing abilities of plants and learned about Dr Bach Flower Essences from a Sufi Teacher and a homoeopath who has treated me from severe depression while I was a corporate expat spouse who lived a life of constant compromises. Through my expat life in Lahore, Pakistan, I have found my purpose and studied yoga, homoeopathy, flower essences from people who grew up with yoga, treated thousands of patients and opened up my heart and brain for spiritual growth and helping others naturally.
Today, a memory of my Teacher, I'm continuing a heart-centred healing work, started by Dr Bach and successfully practised by Dr Habib ur Rehman to the benefit of all people and animals who found balance relief from stress and negative emotions through safe and sustainable healing with nature.
A unique system of thirty-nine essences, discovered by Dr Bach covers the nearly endless number of individual combinations for emotional balance and is a complete system of holistic stress management, preserved from modifications by Bach Centre in the UK.
I live in Southern Sweden and work internationally, online in English, Russian and Swedish with a possibility of face to face consultations in Lund, Malmo, Åhus and Copenhagen.
This summer I'm starting my first workshops in a beautiful Alnarp garden at SLU.
My online self-help stress management training in English is in the pipeline, feel welcome to follow my work on Facebook
@MarinasBachFlowerTherapy
to see my updates and events.
Intercultural Stress Management Sustainable Way
I have first-hand experience and understanding of intercultural challenges, that is very specific and not clear for those who never lived outside of monoculture. I provide expatriate stress management to expat spouses and their families, cooperating with global relocation, corporate HR mobility and NGO's and provide on-demand career orientation for expat spouses.
I ground my work is in Bach Flower Therapy that is the most effective way to gain lost emotional balance and restore energy that most of the people on the move miss. I find Bach Flower system as a missing puzzle of holistic, universal stress management, easy to manage for a client, safe and effective for children, animals and even plants.
When appropriate I use mindfulness, classical stress management, cognitive and crisis sessions and "Juggling for Life" methodology, I studied from Deborah Mattsson Clarke. In my practice, I also use bright light therapy, guided meditations with brain waves, classical Hatha Yoga and The Twelve Chakra Yoga as energy management.
Who are my clients
I work with people of all walks of life, including children and babies. As a repatriate who lived in five countries and a former corporate expat spouse, I have a passion for supporting people in the global transition, an emotionally challenging journey that remains misunderstood by the world that rapidly goes global.
All the methods I use in my work I have been practised for many years myself, and it helps me to suggest the most effective tools for my clients' specific needs. Among my clients are business owners, corporate executives, students, housewives, pensioners and teenagers and many women, who sacrificed their own careers to the favour of the corporate world and rediscovering themselves, starting over new life and career in the midlife without support in different corners of the world. If you are interested in personal recommendations, please contact me via the contact form, and I will provide contact with my current or former clients.
Through my work, I'm supporting others who need help with emotional balance, stress management and career restart.
Nature has holistic resources for all of us, and we can only be successful when we are in balance and have peace within our hearts.
With Love, Gratitude and Healing Vibes,
Marina
RBFP, (Registered Bach Foundation Practitioner)
Certified Stress Management Coach with Cognitive Direction,
M.Sc. in Supply Chain Food Quality Control
and for internationals:
Registered Corporate Expat Spouse Support at SIRVA
https://www.successboomerang.com/